City on the Edge of Forever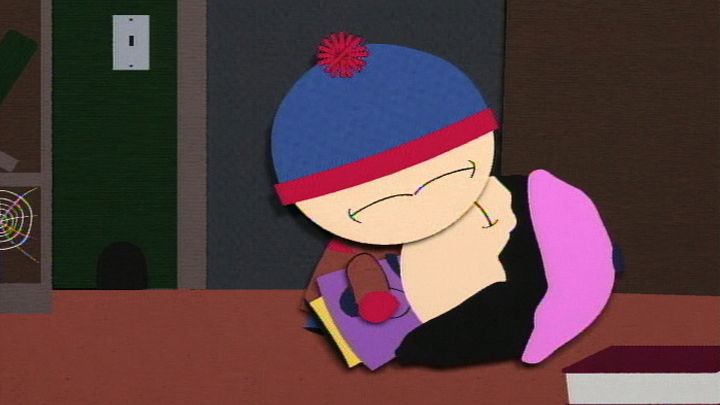 Uitgebracht op 16-06-1998 · Seizoen 2 · Aflevering 7
Verschillende kinderen uit de klas rijden op een bergweg. Wanneer de bus crasht en over een klif komt te hangen, verlaat Ms. Crabtree de bus op zoek naar hulp. Ze zegt dat niemand de bus mag verlaten omdat als ze dit wel doen een groot, eng monster hen opeet.De jongens gaan dan herinneringen ophalen van hun vorige avonturen. Afleveringen als: "Cartman Gets an Anal Probe", "Weight Gain 4000", en "Death" worden behandeld. Maar, de herinneringen aan die afleveringen zijn steeds anders dan dat ze in werkelijkheid waren. Bijvoorbeeld, normaal als Stan bij Wendy in de buurt komt braakt hij over haar heen maar, in de herinneringen zoent hij met haar. Ook bij het einde van iedere herinnering eten ze ijs of er gebeurt iets wat met ijs te maken heeft. Als ze weer terug zijn naar de "werkelijkheid" zegt één van de jongens: "Now that's what I call a sticky situation!", waarna iedereen lacht. Sommige herinneringen zijn helemaal niet van South Park, Fonzie's sprong over een aantal bussen is uit de aflevering "Fearless Fonzarelli" van de tv-serie Happy Days. Later probeert één van de kinderen het toch om te ontsnappen uit de bus, wanneer hij een eindje van de bus af is en de rest ook gelooft dat er niets aan de hand is, springt er een groot monster uit de struiken (ingesproken door Henry Winkler de acteur die Fonzie speelde in Happy Days) die de jongen opeet en even later zijn overblijfselen tegen de ramen van de bus aan gooit wat de kinderen erg bang maakt.
Clips van aflevering "City on the Edge of Forever"
Bekijk hier 13 korte, grappige fragmenten van deze aflevering die zijn uitgebracht door South Park Studios.
Opvallende personages in deze aflevering "City on the Edge of Forever"