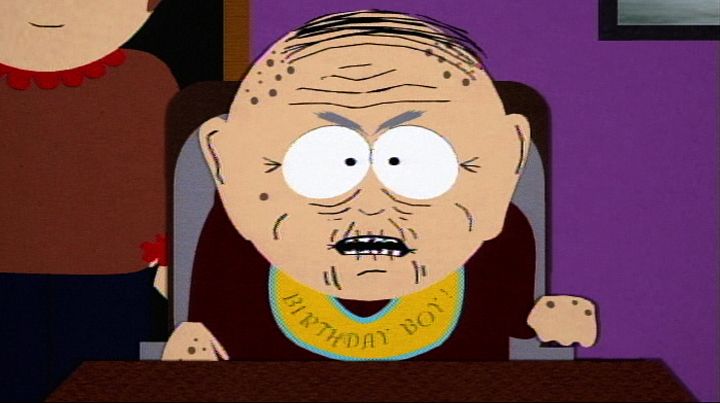 Uitgebracht op 16-09-1997 · Seizoen 1 · Aflevering 6
De familie Marsh viert opa's verjaardag maar opa voelt zich niet goed. Hij zou graag dood willen, en probeert dit ook steeds. Hij is echter te oud om het zelf te doen dus vraagt hij het aan Stan.Ondertussen bij Kyle thuis, zitten hij en zijn broertje Ike "Terrance en Phillip" te kijken totdat zijn moeder boos wordt over het taalgebruik in dit programma. De volgende dag op school ontdekt Kyle dat zijn moeder alle moeders uit zijn klas heeft gebeld en dat ze daarom niet meer Terrance & Philip mogen kijken. Iedereen is hier natuurlijk boos om. Sheila is ook een boycot gestart tegen de zender die het programma uitzendt, "Cartoon Central" (een parodie op Comedy Central en Cartoon Network). Tijdens de schooldag probeert Stan te ontdekken of hij zijn opa nou zou moeten vermoorden of niet, maar wil niemand wil antwoord geven op die vraag (zelfs Jezus Christus niet) en vraagt hij het aan de jongens.
Opvallende personages in deze aflevering "Death"