An Elephant Makes Love to a Pig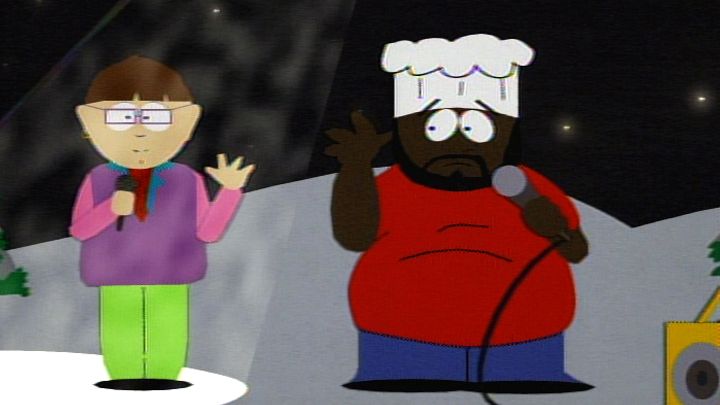 Uitgebracht op 09-09-1997 · Seizoen 1 · Aflevering 5
De jongens staan bij de bushalte te wachten wanneer Cartman ziet dat Stan een blauw oog heeft. Het wordt duidelijk dat Stan's zus Shelley hem geslagen heeft en dat hij niet meer weet wat hij moet doen. Kyle heeft ook zo zijn eigen problemen, hij wil graag een nieuw huisdier, een olifant en zijn moeder wil dit niet. Op school geeft Mr. Hat de kinderen les over genetische manipulatie, dit brengt Kyle op het idee om een olifant te kruisen met Cartman's hangbuikzwijn, Fluffy, hij wil op deze manier "hangbuik-olifanten" maken. Een jongen bij hem op school, Terrance (niet de Canadese tekenfilmheld), zegt hem dat hij nog eerder een heel persoon kloont voordat Kyle een hangbuik-olifant maakt. De kloon-oorlog is begonnen.
Clips van aflevering "An Elephant Makes Love to a Pig"
Bekijk hier 14 korte, grappige fragmenten van deze aflevering die zijn uitgebracht door South Park Studios.
Opvallende personages in deze aflevering "An Elephant Makes Love to a Pig"