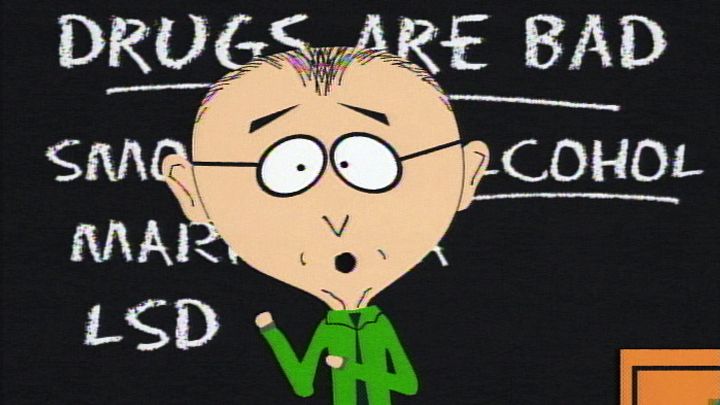 Aired at May 26, 1998 · Season 2 · Episode 4
In this episode, Mr. Mackey gave a speech on drugs and alcohol called "Drugs Are Bad" to convince the children that these things are very bad for health. He is talking about smoking, alcohol, marijuana and LSD. The children do not listen at all and only joke about Mr. Mackey's striking appearance (over his huge balloon-shaped head, of course). The presentation is not interesting or informative at all, for example he says: "Drugs are bad, you shouldn't do drugs." he actually always says this after telling about another drug. He also gives a little marijuana (pronounced "marriage-you-wanna") to the class and asks the children to smell it so they know when one of their friends is using it. Kyle, meanwhile, invites Stan, Cartman and Kenny to Ike's circumcision. (Kyle's family is Jewish) He just doesn't know exactly what circumcision is. Mr. Mackey then asks for the marijuana back but to his shock it is nowhere to be seen. The children are then all examined by the police, but it is not found. When the head of the school finds out that one of the children could just have taken it away, Principal Victoria dismisses Mr. Mackey immediately. (It can be seen that Mr. Garrison is watching Teletubbies while he is stoned).
Notable characters in episode "Ike's Wee Wee"