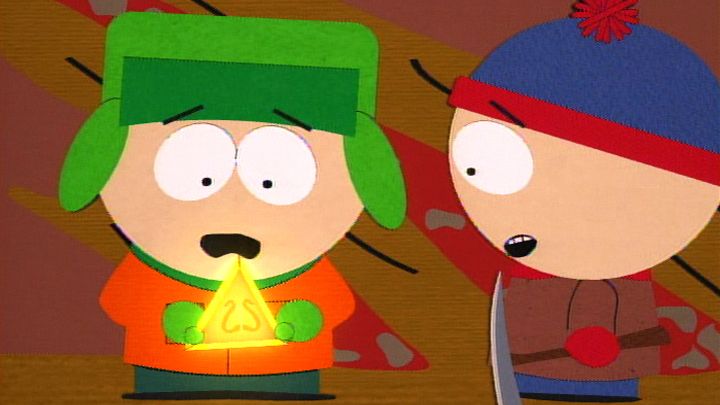 Aired at February 17, 1998 · Season 1 · Episode 12
During a drill for fossils, Cartman discovers Zinthar's triangle, but throws it away. Then Kyle finds him, he thinks he's cool. Cartman wants him back immediately when Kyle comes on TV because of the triangle because he found him. After Eric does some ridiculous things to get him back (drilling a hole in Kyle's roof when he is asleep is no exception), he returns it to Cartman anyway hoping he will calm down a bit. Soon after, Barbra Streisand comes to South Park and also meets the boys. But she gets mad when the boys don't know who she is and they don't care (Barbra doesn't know who John Elway is), she's very interested in Cartman's triangle and later says he gets a monetary reward if he gives the triangle to her, which Cartman naturally accepts. They then go to Barbra's house to complete the transaction. Meanwhile, Leonard Maltin searches for Chef to inform him about Streisand; they then go to Barbra Streisand's house to make sure she doesn't let her fate come true, which is to merge Cartman's triangle with one she found on the set of "My Fair Lady" so she can become a great monster.
Notable characters in episode "Mecha-Streisand"